As technology continues to advance it seems that criminals are right there for the ride. Unfortunately, they have also targeted the real estate world. As you know buying and selling a home can be an emotional and sometimes complicated process. Now we need to add securing our identity to the list. You can no longer
cross your fingers
and hope that you are not the target of a scam or identity theft online. With education, procedures and caution, you can minimize your risk.
Secure Your Identity
Use a password vault. I use Dashlane to generate and store all of my passwords. They are always random and a mix of characters and symbols like this; 0FhT(QeZdX. They are never my dog's name, children's birthday, anniversary date… If I need to share a password with someone, I share via Dashlane. It securely sends it to the recipient. Another feature I like is the ability to change all passwords at once. The dashboard also tells me if I have any weak passwords that should be changed. There are many options for password vaults like, LastPass and Zoho Vault. You can read about them here.
Share passwords sparingly and securely. Never email, text or use Facebook messenger to share your passwords. All it takes is one hacker to get into your account and steal your identity. Yes, it's super easy to text it, but take the extra minute to share via your password vault. In the end, using a vault will save you months of headache, in the event that your identity is compromised. Don't take the chance.
Know who you are speaking with. Never share your personal, private information with unknown people or businesses. If you receive a phone call or email requesting private details, do not immediately provide information. Do a search and make sure it is not a scam. Search for their phone number and call them back. If they are requesting a wire transfer for a real estate transaction, do not implement before confirming with your lawyer and mortgage broker.
Let's face it. We are all addicted to our phones, Wi-Fi and the ease of online shopping, bill paying and money transfers. Take a look at this infographic to learn more about protecting yourself from identity theft when buying a home.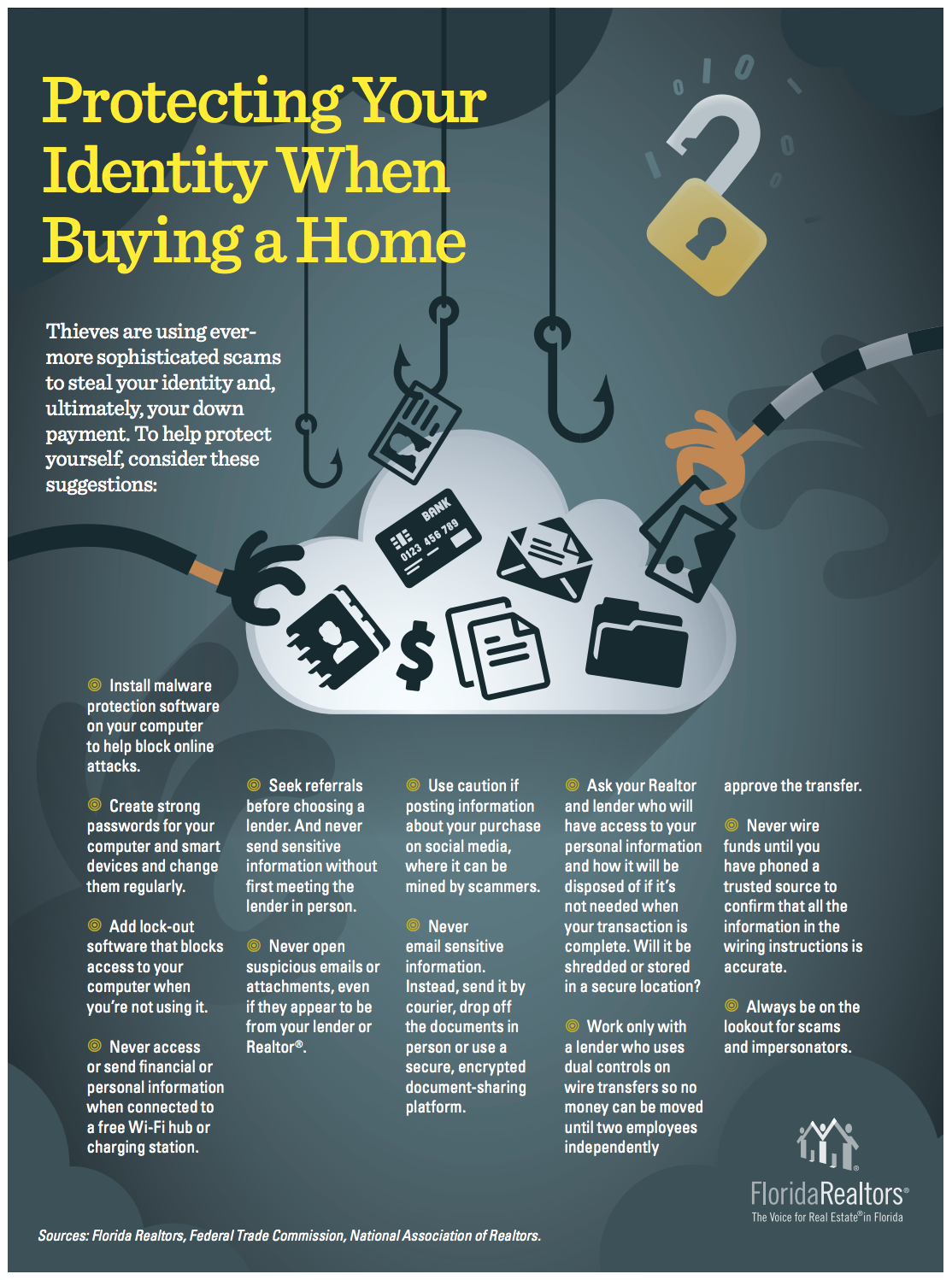 Avoid These Mistakes
Public Wi-fi: I know it's tempting to hop on the public Wi-Fi when you are sitting at a coffee house or at work. Never share financial or sensitive information when you are connected to a public Wi-Fi hub. It may be fast and simple, but in the end, it's just not worth the security risk.
Suspicious Emails: Do not open emails and links coming from unknown sources. Check the email address carefully. Scammers can send emails that look like they are coming from someone you know and trust, but they are really phishing sites looking to steal your identity and financial details. According to Wikipedia, phishing is the attempt to obtain sensitive information such as usernames, passwords, and credit card details, often for malicious reasons, by disguising as a trustworthy entity in an electronic communication. There have been instances where a phishing email looks like it comes from a reputable company, but it does not. An example would be an email from [email protected]. At first glance you might think it's from Microsoft, but if you look closely you will see that Microsoft is spelled incorrectly.
Go Old-School: When possible, drop off papers in-person, use a courier or an encrypted document sharing site. Hackers and scammers are looking for your financial data. Don't make it easy for them by sharing openly via email.
You can't cross your fingers and hope that you are not the target of a scam or identity theft online. #identitytheft #onlinesecurity
Click To Tweet
If you are in doubt, ask questions. When I email all of my customers, I include this message:
WARNING: DON'T BE A VICTIM OF WIRE FRAUD  Wire fraud is on the rise.  Cyber criminals are known to hack email accounts and send emails with fake wiring directions. These emails are convincing and sophisticated. Always confirm wiring procedures with your Escrow Officer at a trusted and verified phone number.  Never wire money without confirming that the wiring directions are legitimate and correct.
Premiere Plus Realty does not send nor receive wire instructions via email. Please confirm any wire instructions via telephone calls or direct person to person contact. Under no circumstances should you send any funds to any party without first calling and verifying the accuracy of wire instructions provided to you.
If someone is pressuring you to act quickly, that could be a warning that they are not legitimate. You have every right to ask questions and to verify the business and people you are doing business with. As they say, better safe than sorry.
Do you know someone buying or selling a home? Share this post using the share buttons and tag them in your post. Help protect them from identity theft.
Related Content
:
Selling a Home with Smart Home Devices
Whether you are buying or selling a home, your list of things to do can be LONG! Making a list of what needs to be done well in advance of your move will make the process easier. If you are selling and would like a downloadable Moving Checklist, sign up here.