What is a smart home?
Selling a home with smart home devices? First you need to understand what a smart home device is. It can be as simple as a Ring® doorbell or as involved as being able to control your entire home via an app on your iPhone. Today, it is incredibly easy to manage your daily life via an app. When you wake up in the morning, your coffee can be brewing, your oven can be cooking your breakfast and the lights can softly turn on to illuminate your path to the kitchen. While you are enjoying coffee on the lanai, you can turn on some music and adjust your home's temperature all within seconds. As you finish your first cup of coffee, your doorbell rings. Since you are not expecting anyone, you take a look at your front door area via the Ring® app. It's FedEx, likely delivering another package from Amazon. You click on the talk button and ask him to just leave it at the door.
Fast forward eight hours and you are just about to leave work. When you arrive at home you would like to relax in the hot tub. You use your Jandy app to turn the heat on, you adjust the outdoor lighting, add some music and in a few short minutes you will make your entrance at a home that is completely ready for your arrival.
While you are in the hot tub, you decide to change the music. You simply speak to Amazon Echo and ask her to read an Audible book instead, call a local restaurant for delivery and check the weather for tomorrow. And while she's at it, what's the score for the Patriots' game?
While you were doing all of that, your front lights came on, a lamp in the family room turned on and the ceiling fan in your bedroom was turned to low, just as your television began airing your favorite show.
Sounds great, right?
What happens when you sell your home that has smart devices? #smarthome
Click To Tweet
If those devices are staying with the home, like your doorbell, you will need to leave the new owners with access to those devices. That means returning them back to factory default settings. This will delete all of your personal information from the account. For instance, if you currently control your lighting via an app, you need to leave detailed instructions for the new homeowner, in order for them to have working lights. You also want to make sure that your personal information is no longer stored – like credit cards and passwords. If you have to, set up a free email address and change the devices over to that email account. Once you have closed on the home, provide the new owners with access to those accounts. They can log in and change the email address and password.
Here are some things to consider as buyers and sellers of homes with smart devices.
Smart Home Sellers
Make a list of smart devices that will stay with the home
Before closing, reset all devices to factory presets
If an email is needed, create a free generic one such as [email protected]
At closing, provide the email address with login, and a list of any codes needed
Smart Home Buyers
Ask seller to provide device manuals
Notify manufacturers of your contact information
Update all devices
Change all access codes for garage doors, gates and other locks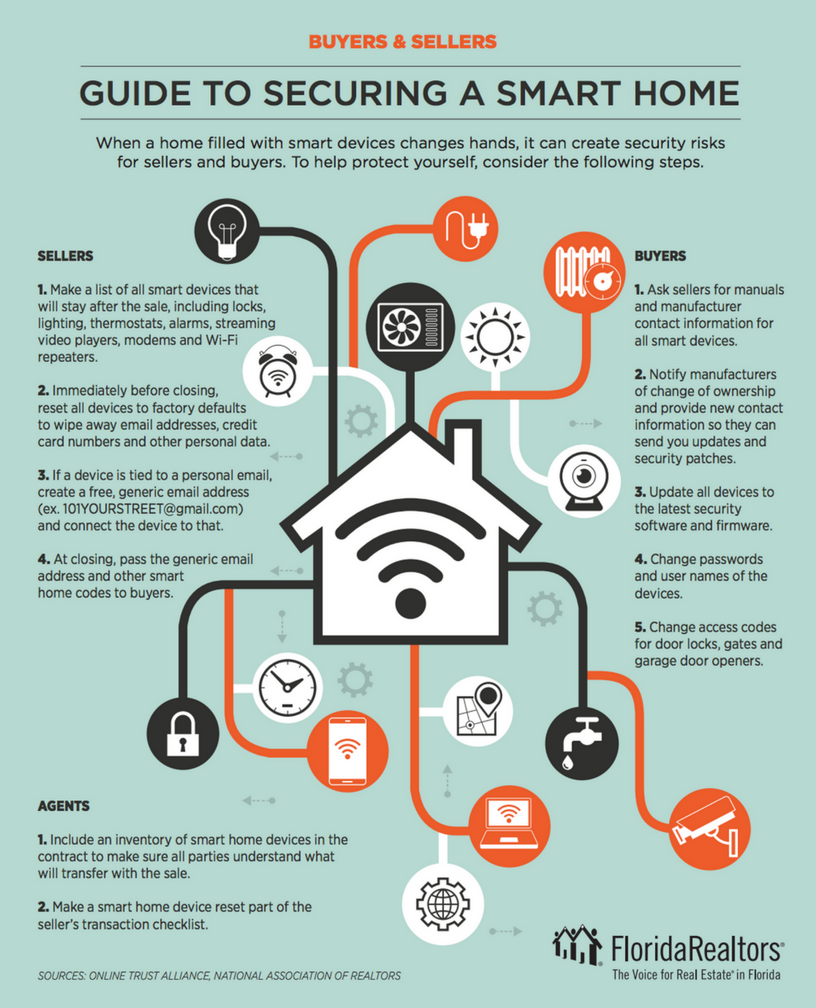 Whether you are buying or selling a home, your list of things to do can be LONG! Making a list of what needs to be done well in advance of your move will make the process easier. If you are selling and would like a downloadable Moving Checklist, sign up here.
Related Content: How to Protect Yourself from Identity Theft
Note: This post contains affiliate links. If you choose to use them, I receive a small commission from Amazon. This does not affect your pricing. The commission is paid by Amazon.