Selling your home? Want to know how to sell your home faster? I'm pretty positive you don't want it on the market for months-on-end. Nobody enjoys making their home open house or short notice showing ready. You know what I mean. Each morning before you leave your on-the-market home, you have the usual morning to do list. Now add to your list;
make all beds
put all dishes away
clean the sinks
finish and put away laundry
empty garbages
put kids toys away…
The list seems endless. You are busy. You need to sell your home yesterday! Take a look at these nine factors, from Florida Realtors, that can help you sell your home faster.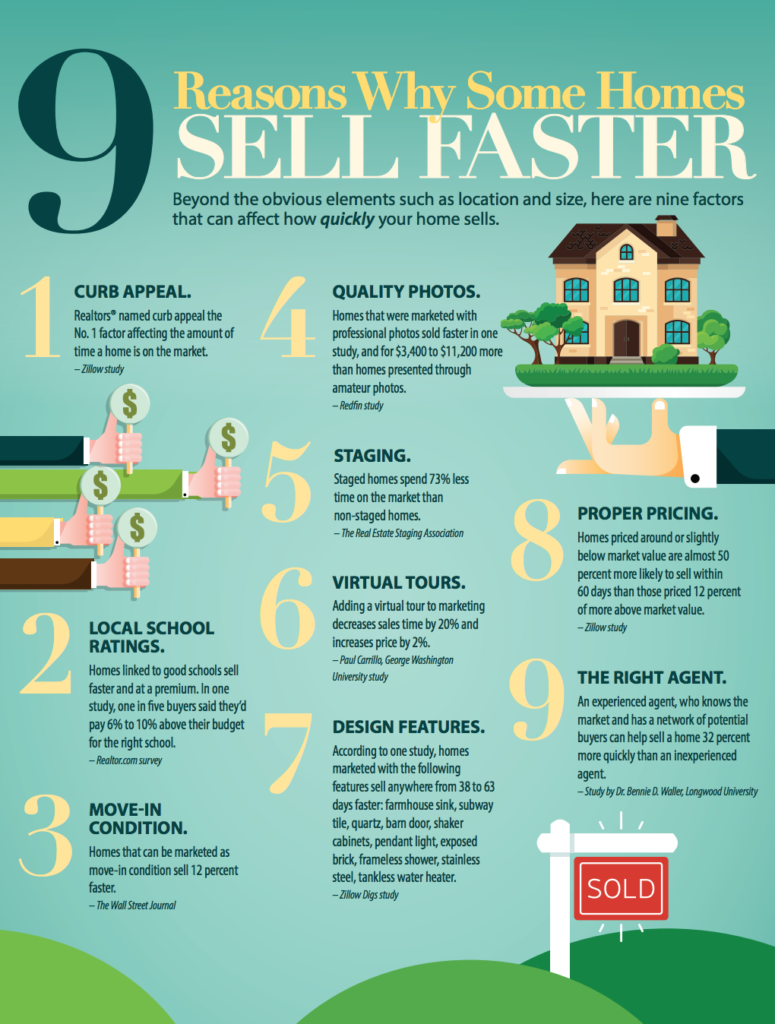 What does that mean? What should you do and what should you leave for the new owners? Let's take a closer look at some of the factors mentioned in the infographic, to help you decide what you need to do to sell your home faster. Also remember that your Realtor is an excellent resource.
Curb Appeal
We have all seen homes that have no curb appeal. And we have all seen homes that make you stop and stare. Whether it's a home in your neighborhood or one you've viewed on Pinterest, homes with curb appeal make people stop, look and envision themselves living there. It starts with the mailbox and continues to the front door. There are many little fixes you can do to create better curb appeal. Here are some suggestions;
Paint mailbox
Keep lawn nicely trimmed and edged
Maintain sidewalk and path leading to front door
Plant seasonal flowers in a container or small beds near front door
Paint front door
Place new mat at entrance
Install new exterior light fixtures
Add new house numbers
For more ideas, take a look at my Pinterest board all about Curb Appeal.
Move-In Condition
Most people, especially in seasonal markets, do not want major projects. They likely do not want to spend their 4-6 months here living through construction. It's also not optimal to manage contruction from afar. According to The Wall Street Journal, "homes that can be marketed as move-in conditions sell 12 percent faster." Talk with your Realtor before you make a decision on upgrades or remodeling. He/she will be able to advise you, based on the market, if your planned changes create value and move-in condition for potential buyers.
Quality Photos
It's no secret that home buyers are starting their search by looking at real estate online sites. It's easy to pass by a listing with unprofessional photos. We have all seen the ones with a cluttered kitchen, dirty dishes in the sink, barely made beds, dark photos that make the rooms look cave-like… If you want to sell your home faster and for more money, please work a Realtor that always hires a professional photographer. It does matter. If you are still not convinced, scroll through some of the photos on this Facebook page, Bad MLS Photos and this website, Bad MLS Photos.  If nothing else, you are guaranteed to laugh.
Staging
If you want to sell your home for top dollar and sell it faster, home staging will help set your home apart from the competition. According to Real Estate Staging Association, staged homes spend 73% less time on the market than non-staged homes.
Staged homes spend 73% less time on the market than non-staged homes.
Click To Tweet
Related: Read my recent post, Home Staging to Sell Your Home
Pricing
You've heard, location, location, location. It's also about pricing, pricing, pricing. According to Zillow, "homes prices around or slightly below market value are almost 50 percent more likely to sell within 60 days than those priced 12 percent or more above market value." Your Realtor will be able to provide you with a Comparative Market Analysis. This will help you choose the right listing price for your home.
Do you know what happens when a home sits on the market for months? One of the biggest issues is that the listing gets stale. It is no longer showing up on the first few pages of  Zillow, Realtor.com and Trulia. Typically people do not change the search parameters when they are using one of those sites. They will see newest listings first. So, if your home was listed six months ago, it might be on page 12 and nobody will see it. Pricing your home correctly is imperative to the timely sale of your property.
Right Realtor
Working with the right agent will make a world of difference. It's important to find someone that knows your area well, understands the local and global market and knows how to market your home. Ask them for marketing samples and to outline their marketing plan for your home.
Related: Selling a Home with Smart Home Devices for more helpful information as you prepare to sell your home.
Selling a home can be a stressful process. If you and your agent work together from the beginning, to identify any areas that will make your home stand out against the competition, the process of selling should be much easier and faster. Remember it's your agents job to guide you through the entire process. They are there to answer any questions and to help sell your home for the most financial return and in the shortest amount of time.
Before you go, don't forget to sign up for my email list. I will send you weekly emails about Naples happenings, monthly and quarterly real estate market updates, my open house schedule and other real estate related news. You can quickly sign up in the box below.