There's nothing like throwing a party at your house in the summer. Family and friends are always happy to enjoy Naples weather and a few expertly crafted summer drinks.
It's time to graduate from the ordinary beer and wine. Mix it up with some St-Germain. #summerdrinks #cocktails
Click To Tweet
Before your next event, practice making these drinks that your guests are sure to appreciate. Why not invite some taste testers over? I'm sure your friends will be happy to help you out.
Directly from the St-Germain website comes these three favorites:
St-Germain Cocktail
2 parts Brut Champagne
1.5 parts St-Germain
2 parts Club Soda
Start with a tall Collins glass full of ice. Add above ingredients. Garnish with a twist of lemon. I prefer it plain or with a few muddles raspberries at the bottom.
Tip: You can substitute Sauvignon Blanc if you prefer. But, make sure it's a good one. It really does make a difference.
St-Germain Shandy
5 parts Pilsner Beer
1.5 parts St-Germain
2 Lemon Wedges
Fill a pint glass half way with ice. Add ingredients, squeeze two of lemon wedges into the glass and give it a stir. Garnish with a lemon wedge or slice.
Peartree Martini
1.5 parts Pear Vodka
1.5 parts St-Germain
.5 parts Freshly Squeezed Lime Juice
1 dash Angostura Bitters
Fill a shaker half way with ice. Add all ingredients and give it a shake. Pour into a chilled martini glass. Garnish with a slice of D'Anjou pear and a sprinkle of cinnamon or nutmeg.
During the holidays, St-Germain offers a boxed set that includes a bottle of St-Germain, a glass carafe and stirrer. It makes it super simple to make them for a group. The carafe has simple marking lines showing you how much of each item to add for the perfect St-Germain Cocktail. You can purchase now via my Amazon link: http://amzn.to/2iH7fiP This link sells the glass carafe and stirrer; you supply the St-Germain.
More St-Germain recipes here: http://www.stgermain.fr/recipes/
You can print or save the above recipes by clicking image below.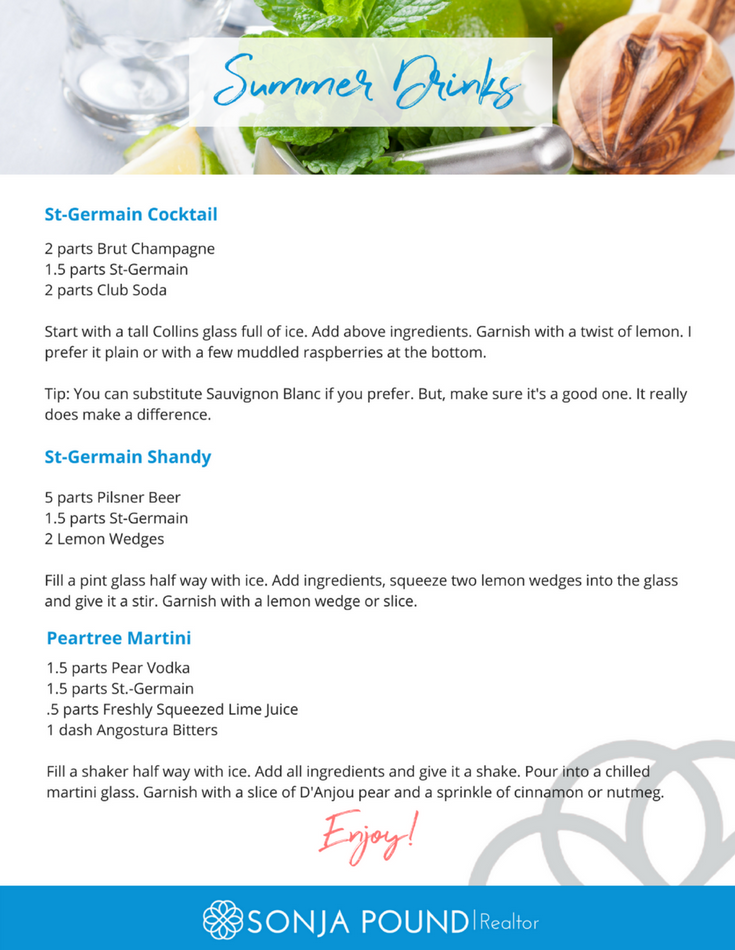 For those of you reading this in the cold of winter, remember that Naples winters are just like spring in New England. You could enjoy summer drinks year round. Contact me if you are tired of shoveling snow and bundling up just to go to the coffee shop. In the meantime, share your favorite summer drink in the comments below.